The Flea Show - Production of the film
Why?
When I was working on the Captain Correct project, I found that my skills in model making was proving insufficient so I was thinking about alternative approaches to the problem.
On the train back from Carlisle after Christmas 2004, I came up with the idea of a simpler film that would allow me to develop my model making and animation skills before moving back to the Captain. I'd been reviewing the old STOIC archive and stumbled across Olivier' Flea Show before Christmas. Having invisible fleas meant that I not need to animate quite so much. The initial idea for acts were roughed out on that journey. I'd been experimenting with Carrara for Captain Correct and concluded that would be a good tool for making this film.
I initially was going to have just the acts with no Ring Master then I saw It's Mings characters and though that something like that would be ideal. He then brought out the Freeman character and I contracted Ming to merge this with another character with a jacket that I liked.
The script was developed over approximately 2 years whilst I was experimenting with the props and sets and animation techinques. The print outs of the storyboard being scribbled on down the pub and then new versions were printed up for the next "discussion meeting". Old Stoic people such as Rex and Alan with their friend Graham helped out with this.
Renderosity forums have proved a great help in the project and there nearly always seems to be someone that can at least provide some motivation or at best a solution to my latest problems. I've had a range of issues from bending the wire on the tightrope to making the Ring Master turn on one foot.
Influences
I've always been a fan of the plasticine animation since watching Screen Test, Take Hart, morph and things on Channel 4 when younger. I'm a big fan of Aardman and the Wallace and Gromit series and also love Chicken run. These probably drove me to make the make the Ring Master look clay like with things like "The Island of Inis Cool" providing more influence on the look. I did not like how the "clay" looked in Flushed Away but I'm just about happy with how it's looking now for the Flea Film.
I'm also a big fan of Pocoyo both in styling and simple story telling. It's a little plasticine like in it's simple shapes and colours. Both the book "Digital Lighting and Rendering" a book so good I bought it twice and my fiance Rebeccas' floristry training have influenced the lighting and colouring of the film. They introduced concepts like colour themes and complementary colours which for some reason my degree in electrical engineering did not cover.
Film work in progress
At the January 2006 preview screening at the STOIC studio the flea film video storyboard got a standing ovation. In a late night screening session version 21 of the flea circus storyboard was shown to a mixed audience of old and new STOIC members. Due to limited facilities, no chairs were available. The production of the film is slow and irratic as it has to fit around real life and other commitments.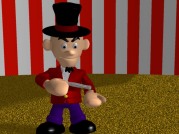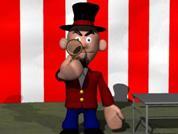 The character design for the Ring Master has moved on a long way since It's Ming added a jacket to his Freeman character. Ming was drafted in again to unwrap the UVs so that procedural textures applied correctly. There's been a lot of effort put into the lighting and texturing of the props and set.
A working version of the animation of the three acts is complete and also a draft version of the interlude has been created.
The casting of Crotaz has been completed thanks to WhatOcean from Voice Acting Alliance and thanks to Biz the Drummer on Myspace I also have a Scottish voice for the Jock Denim character.
There have been some challenges in the making of the film. Specifically the bending of the rope for the unicycle, the chasing spotlights,and moving and turning the Ring Master. As mentioned above Renderosity has been a lot of help for this.
This animation does not have a formal project plan but it has a little more than I've done before. I needed to keep track of the jobs to do and some simple dependencies so I created a list of tasks in a spreadsheet and published them here as a production plan. You can also keep track of progress via the animation ramblings blog.
Production Details
---

---