Captain Correct Project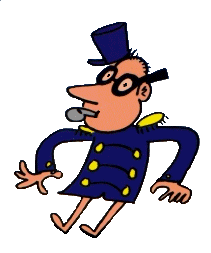 This project is on hold but not forgotten, pending the completion of the Flea Circus.
I decided one day that it was time to make another animation in the format of the BK Kids Club videos we did when I was back in STOIC however BK did not appear to be doing their Kids Club comics anymore so I needed another source of inspiration.
After looking at several pieces of work in the local comic/bookstore (Gosh, next to the British Museum), 2 artists were researched, the first was Peter Bagge's "Stupid Comics" the second was Sam Henderson's "The Magic Whistle Blows."
I decided to use one of the stories from Sam Henderson's cartoons in the Magic Whistle, a short story about a definitely non-PC Super Hero. This was selected as the short was very short, hence the project has some possibility of getting finished and because I appreciated the humour. Peter's Girly Girl cartoons were a close second but are generally quite long.
As an aside, Sam has not named the characters in this piece so I came up with the name Captain Correct because both times he appears he is giving the kids "handy" advice.
The origional KB Kids Club video was made by first recording the voices then taking each frame of the comic and recording it onto the tape for the appropriate duration. Some basic special effects were added.
For this new piece it was decided to use computer animation, mainly because I have easier access to this than the video equipment but also so that a more enhanced animation would be possible.
Objectives
To produce an animated short
Utilise the story and images from an existing artist
Keep the style intact
Add sound and motion to the piece
---
---
Thanks
Many thanks are due already to Sam Henderson for
Creating the cartoon in the first place
Sending more of Captain Correct
Letting me do this project
Thanks to everyone at PSTOIC for providing motivation and voices

Also thanks to the guys at Gosh who recommended the Magic Whistle and Stupid Comics as potential candidates.

Finally thanks to 2020Media for the domain name, redirection and support for the project.

Email : Andy Clark

[email protected]

- Last updated : Dec 2000